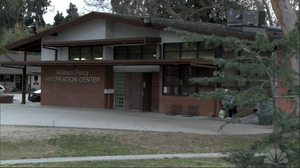 The William Percy Recreation Center is a recreation center in Pawnee. The center almost had to cut many of its classes but continued to offer them after Leslie Knope paid $1,000 restitution to the recreation center so no classes would be cut. It also has a basketball court.
The center offers a variety of classes including:
Accounting - taught by Barney Varmn
Belly dancing
Caricatures
Cooking - taught by Tanya
Coping with terminal illness
Fencing
Organize Your Life - taught by Maria Portlesman
Origami
Ad blocker interference detected!
Wikia is a free-to-use site that makes money from advertising. We have a modified experience for viewers using ad blockers

Wikia is not accessible if you've made further modifications. Remove the custom ad blocker rule(s) and the page will load as expected.