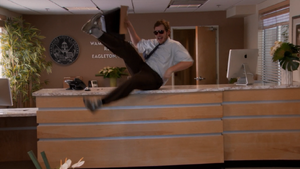 Wamapoke County Records is located in Pawnee, Indiana (formerly Eagleton, Indiana). It's where Leslie Knope, Chris Traeger, and Andy Dwyer go in the episode "Born & Raised" in order to get Leslie's long-form birth certificate in order to prove she was born in Pawnee. After employee Alexis Pratchett tells them it takes 3 to 8 weeks to get a birth certificate, Andy (as alias Burt Macklin), storms the back of the records office and steals Leslie's certificate. To her horror, she finds out she was born in Eagleton.
Employees
Edit
Ad blocker interference detected!
Wikia is a free-to-use site that makes money from advertising. We have a modified experience for viewers using ad blockers

Wikia is not accessible if you've made further modifications. Remove the custom ad blocker rule(s) and the page will load as expected.