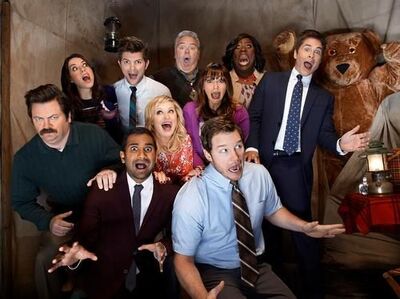 Woohoo!! Season 6 finally premiered last night, and it was an interesting twist because, instead of running around Pawnee, Indiana, our favorite TV crew was in London where Leslie Knope was accepting a prestigious award! Of course, there were humorous moments with everyone (like Ron refusing to pay with anything but American money), but guest appearances from Heidi Klum as a politician and Peter Serafinowicz as Andy's new friend Lord Eddie were also hilarious!
We won't ruin the rest of the episode for people who haven't seen it yet, but keep reading for what others had to say about the premiere and then share your own opinions in the comments below! P.S. How great was the letter April sent in to nominate Leslie for the International Coalition of Women in Government award??
Reviews
The Examiner gave the premiere a 4 out of 5 stars and said, "In its sixth season, Parks and Recreation promises to deliver the same heart-warming humor mixed with colorful characters it always has while taking some big story swings."
The Guardian claims, "Thursday's season six premiere took on a questionable gimmick – the parks department in London – and managed to evade American-in-UK jokes for something more true to the characters – a promising foundation for a new season (there is one Harry Potter joke, but that is never going to stop because it made all of the UK 15% more likable)."
Under the Radar Magazine gave Season 6 an 8 out of 10 star rating and said, "Unlike its private sector predecessor, The Office—which relied on uncomfortable failures for comedy—Parks and Recreation encompasses a universe where each week, the characters are better off than the week before. They grow through conflict, but they always grow happier, and they're rewarded for their struggles and they reap the benefits of friendship and loyalty. The sixth season premiere (which partly takes place in London and features guest stars Henry Winkler and Heidi Klum) doesn't let go of this trend for a moment."
Wikian Poll
These are only a few of the reviews out about Season 6, but what did you think?? Sound off below!
What did you think of the Season 6 premiere?
---
---