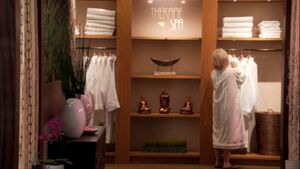 Therapie Spa is the spa where Tom Haverford and Donna Meagle take Ben Wyatt on their Treat Yo Self day in the episode "Pawnee Rangers". Donna gets acupuncture there.
Ad blocker interference detected!
Wikia is a free-to-use site that makes money from advertising. We have a modified experience for viewers using ad blockers

Wikia is not accessible if you've made further modifications. Remove the custom ad blocker rule(s) and the page will load as expected.