Theodore
(last name unrevealed) is a man who works at the jewelry store in Pawnee. He is tall and has light-red hair. Theodore is played by
Brian Stack
.
Storyline
Edit
Season Five
Edit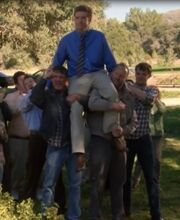 In
Article Two
, Theodore is dumped into
Ramsett Lake
on "Ted Day" as per the town charter - wherein the Pawnee Founding Fathers spelt the word "Tea" in such a way that it could be mis-read as "Ted", which resulted in the tradition of dumping a citizen named Ted into the lake every year. Theodore objected on the grounds that the statue was outdated, that it clearly meant to say "tea" and that he himself went by "Theodore".
Theodore later meets with Leslie at City hall claiming to represent himself and the other Teds in town. He makes a case for removing the Ted Day statute by pointing out other laws that are still technically in effect, even though they are outdated and absurd.
Season Six
Edit
In New Beginnings, Theodore is later shown to be working at a jewelry store where Ann and Chris go to purchase a wedding ring. Their continued indecision about whether or not to buy a ring frustrates Theodore, keeping him at the store later than planned. When Chris and Ann eventually settle on a simple locket, Theodore gives it to them at no charge on the condition that they leave his store.
Season Seven
Edit
In Two Funerals, Theodore has agreed to let Tom and Leslie film part of Tom's action movie marriage proposal in the jewelry store and finds himself operating a camera. He is annoyed at Leslie's directions, and is further bothered when Tom breaks one of the display cases.
It was implied that Theodore was the owner of the jewelry store (as he had the discretion to keep the store open and give away merchandise), but this is not confirmed.
In Two Funerals, Leslie continues to address Theodore as "Ted".
Appearances
Edit
Ad blocker interference detected!
Wikia is a free-to-use site that makes money from advertising. We have a modified experience for viewers using ad blockers

Wikia is not accessible if you've made further modifications. Remove the custom ad blocker rule(s) and the page will load as expected.