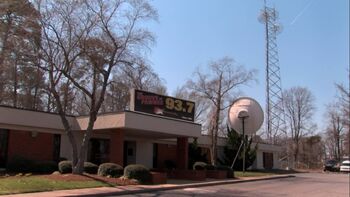 93.7: The Groove of Pawnee is a radio station in Pawnee, Indiana. It is where Crazy Ira and The Douche work, along with China Joe (his real name is Doug Ng and he is Vietnamese), the sound effects guy. The studio features the famous "Spank Chair". The morning DJs interview Leslie Knope and Ben Wyatt on air during the episode "Media Blitz".
The station apparently also broadcasts Eagleton as well as Pawnee.
Ad blocker interference detected!
Wikia is a free-to-use site that makes money from advertising. We have a modified experience for viewers using ad blockers

Wikia is not accessible if you've made further modifications. Remove the custom ad blocker rule(s) and the page will load as expected.