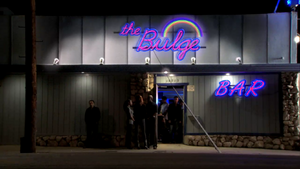 The Bulge is a gay bar located at 1302 Runyard in Pawnee, Indiana. It sent Leslie Knope a wedding cake with two penguins on top to thank her for supporting the gay community. April Ludgate, her ex-boyfriend Derek, and Derek's boyfriend Ben used to hang out there. The club declared Leslie their "hero" for holding the gay penguin wedding, but Leslie insists it was simply a publicity stunt, not a political statement. The Bulge held a party in Leslie's honor, which she attended along with Tom Haverford in the episode "Pawnee Zoo" to announce she has not taken a political stand; however, she accepts the free drinks they offer her and ends up getting drunk and having a great time.
The Buldge is also feautured in the episode "Go Big or Go Home".
Exterior:
Interior:
Theme Nights
Edit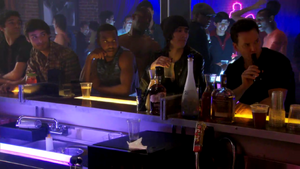 Meaty Man Mondays
Twink Tuesdays
Waxed Chest Wednesdays
Cher Thursdays
Freaky Fridays
The Saturday Steam Room
Sensuous Sundaze
Ad blocker interference detected!
Wikia is a free-to-use site that makes money from advertising. We have a modified experience for viewers using ad blockers

Wikia is not accessible if you've made further modifications. Remove the custom ad blocker rule(s) and the page will load as expected.