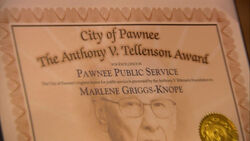 The Tellenson Award for Public Service is a yearly award given to government officials for public service. The award was named for Tony Tellenson.
Marlene Griggs-Knope is being honored with a Tellenson Award for Excellence in Pawnee Public Service in the episode "The Banquet". In attendance at the ceremony are also all the living past winners of the award.
Leslie Knope believes that they don't give lifetime achievement awards to people who blackmail, but Marlene assures her it's only the worst people who win awards, describing the past winners as "eight of the nastiest, most diabolical people you could ever wanna meet".
Tellenson Award Winners
Edit
Ad blocker interference detected!
Wikia is a free-to-use site that makes money from advertising. We have a modified experience for viewers using ad blockers

Wikia is not accessible if you've made further modifications. Remove the custom ad blocker rule(s) and the page will load as expected.