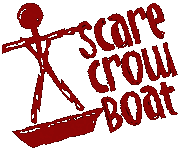 Scarecrow Boat is the name of a band led by
Andy Dwyer
, which performed in the episode
Rock Show
. They have a long list of previous names and can't quite settle on one. The inspiration for one of their songs titled, "Ann", was Andy's former girlfriend
Ann Perkins
. They are the winner of WKKR's
Pawnee
Battle of the Bands 2008.
The band was named after an actual garage band from Adrian, Michigan, active from 1991 to 1995, winner of the 1993 Adrian High School Battle of the Bands. Parks and Recreation co-creator Michael Schur met the original Scarecrow Boat bassist, Eric Bennett, through the Harvard Lampoon and wrote in 1997 a mock album review of a Scarecrow Boat album for that humor magazine. Years later Schur made use of the name for the show without permission. In addition to Bennett, the original Scarecrow Boat members were Matthew Shultz (vocals), Jason Tuttle (guitar), and David Stukey (drums). Previous names included Where's Alex?, Odd Pieces of Stone, and Johnny Lickspittle and the Obsequious Sycophants.
| Name | Image | Role | Description |
| --- | --- | --- | --- |
| Andy Dwyer | | Vocals, Guitar | Andy Dwyer, 29, has lived in Pawnee for his entire life. "It's my home," he says, emotionally. Dwyer has written over 300 songs, and serves as the band's lead vocals, rhythm guitarist, manager, advisor, and "creative force" and brains.[1] |
| James Pierson | | Drums | For years, James was the drummer in Scarecrow Boat's nemesis band, The Sprinklers. Then one day he finally came to see those dudes for the assbags they really are, and joined us.[1] |
| Michael Chang | | Bass, Back-Up Vocals | Michael and Andy went to high school together and have been playing music for years. The first ever band that Andy played in was a swing craze duo with Michael in 1996 called "The Dizzy Dames" and then they realized that "dames" means girls and changed it to "The Daddy Fellas." [1] |
| Andrew "Burly" Burlinson | | Guitar, Back-Up Vocals | Burly is "the shy one."[1] |
Previous Name
Edit
The band has changed names several times. Past names include:
Teddybear Suicide
Mouse Rat
God Hates Figs
Department of Homeland Obscurity
Flames for Flames
Muscle Confusion
Nothing Rhymes With Orange
Everything Rhymes With Orange
Punch Face Champion
Radwagon
Puppy Pendulum
Possum Pendulum
Penis Pendulum
Handrail Suicide
Angel Snack
Just the Tip
Fourskin
Threeskin
Jet Black Pope
Malice in Chains
The Andy Andy Andys
Andy and the D-Bags
Crackfinger
Fiveskin
Ninja Dick
External Links
Edit
References
Edit
Ad blocker interference detected!
Wikia is a free-to-use site that makes money from advertising. We have a modified experience for viewers using ad blockers

Wikia is not accessible if you've made further modifications. Remove the custom ad blocker rule(s) and the page will load as expected.