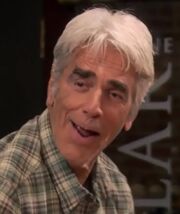 Ron Dunn (played by Sam Elliott) is
Ron Swanson's
counterpart from
Eagleton
. Almost the mirror opposite of Ron Swanson, Dunn is a hippie and a vegan.
Following the merger of Pawnee and Eagleton, Ron Swanson retains his role as head of the Parks department, leaving Ron Dunn out of a job. He accepts this loss graciously. Ron at first seemed like he had a lot in common with Ron Swanson but was later shown to be an exact opposite.
In the episode Doppelgängers he is revealed to be a capricorn.
Ad blocker interference detected!
Wikia is a free-to-use site that makes money from advertising. We have a modified experience for viewers using ad blockers

Wikia is not accessible if you've made further modifications. Remove the custom ad blocker rule(s) and the page will load as expected.