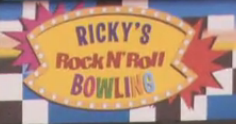 Ricky's Rock N' Roll Bowling Alley is the location in the episode "Bowling for Votes" where Leslie Knope hosts the Bowling For Fun event for her city council campaign. The bowling alley also is home to Ron Swanson's favorite restaurant. It is also referenced in "Sister City", when Leslie states she "had to drop the rock and roll bowling alley from their itinerary".
Ad blocker interference detected!
Wikia is a free-to-use site that makes money from advertising. We have a modified experience for viewers using ad blockers

Wikia is not accessible if you've made further modifications. Remove the custom ad blocker rule(s) and the page will load as expected.