Ramsett Park is Pawnee's most-visited park.
It is the former site of a Wal-Mart which was converted into a state-of-the-art park in 1986. The park has still retained the flavor of the 80's through its themed playground and bright murals.
In recent years, Ramsett Park has been the site of numerous community activities, including the Pawnee International Cuisine Festival, kindly sponsored and fully catered by Christina's Bagels. In 2003, residents dedicated a bench to Councilman and Mrs. Wendell Partch-Frome, after the couple created a fund supporting an annual Ramsett Barbecue. The Ramsett Barbecue became a lasting tradition until it was curtailed in 2007, due to insufficient sanitation regulations.
Since 2007, the park has been frequented by a large number of animals, many domesticated. After an eight-month hiatus last year to set up cages and traps, Ramsett Park has re-opened to increased popularity. Parkgoers can now enjoy stopping in for a quick game of handball or just taking a cautious stroll.
In "Pawnee Zoo", Ron Swanson alerts Leslie Knope that someone is on fire at Ramsett Park. In "The Set Up", citizens complain that there are a "disturbing number of benches in Ramsett Park", while others complain that they "want to sit more".
Ramsett Park Lake
Edit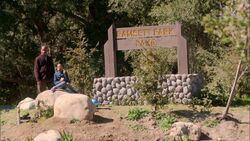 Every "Ted Party Day", a man named Ted is dunked into Ramsett Park Lake. This is because in Pawnee, the word "Tea" was misspelled in the Pawnee Charter, causing the article to read "citizens shall dump ted into Ramsett Lake".
Facility Hours of Operation
Edit
Monday - Friday: 11:15 a.m. to 3:15 p.m.
Saturday: 11:45 a.m. to 2:00 p.m.
Sunday: Closed
Note that hours have changed, as of June 2007. Park will return to regular hours in June 2008. Park is expected to return to regular hours in Fall 20___.
Facility Features:
Edit
Barbecue Pit (pending redesign)
Handball Court
Pimental Creek
Sand Pit
Designated Bench
Dirt Field
Mayor Percy statue
Community Center
Pimental Creek
Walking and Biking Paths
Pawnee International Cuisine Festival
Bring Your Own Meat "BYOM" Night
Ramsett Frome-Partch Fund Barbecue
All programs discontinued until further notice
Ad blocker interference detected!
Wikia is a free-to-use site that makes money from advertising. We have a modified experience for viewers using ad blockers

Wikia is not accessible if you've made further modifications. Remove the custom ad blocker rule(s) and the page will load as expected.