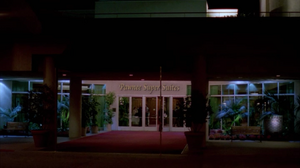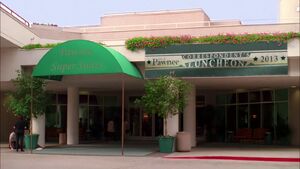 Pawnee Super Suites is a hotel in Pawnee, Indiana located at 380 Drexel Avenue. It provides reasonably priced accomodations with free broadcast television and beautiful views of Drexel Avenue. Most of their doors can be successfully locked for privacy, and while the cleaning staff may not be "friendly", they almost always do their appointed job. In "Woman of the Year", Ron Swanson goes there to accept his Dorothy Everton Smyth Female Empowerment Award from the Indiana Women's Organization. In "Correspondents' Lunch", Leslie Knope hosts a Correspondent's Lunch at the Pawnee Super Suites.
Ad blocker interference detected!
Wikia is a free-to-use site that makes money from advertising. We have a modified experience for viewers using ad blockers

Wikia is not accessible if you've made further modifications. Remove the custom ad blocker rule(s) and the page will load as expected.