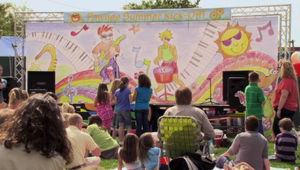 The Pawnee Summer Kick-Off is an event organized by Leslie Knope in the episode "Freddy Spaghetti". The concert was cancelled due to the Pawnee government shutdown, but Leslie brings it back to life. Ann Perkins suggests they hold the concert on the Sullivan Street Pit behind her house, since the pit has been filled in and is now a grass lot. Leslie forgets Port-A-Potties, so she suggests everyone just uses Ann's House. Everything was donated by local vendors.
Freddy Spaghetti performs a children's concert
Petting Zoo
Bouncy castle
Snack cart
Craft station
Face painting
Hay rides
Ad blocker interference detected!
Wikia is a free-to-use site that makes money from advertising. We have a modified experience for viewers using ad blockers

Wikia is not accessible if you've made further modifications. Remove the custom ad blocker rule(s) and the page will load as expected.