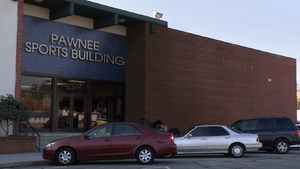 The Pawnee Sports Building is a sports complex building that Leslie Knope books for her campaign rally in "The Comeback Kid". It's located at 400 Lowell Avenue.
In the episode, Leslie discovers that April Ludgate failed to learn when she booked the rally that the basketball court had been converted into an ice hockey rink. Even worse, due to most of the supplies being abandoned, only a portion of Leslie's campaign banner is displayed and the podium is built without stairs. When Leslie goes out on the ice to give her speech, Tom Haverford's red carpet ends abruptly, so she and the whole department slip and fall all the way to the podium, while Andy Dwyer and April's new dog Champion pees all over Ron Swanson. Leslie finally gets to the podium, but her index cards are out of order and her speech falls flat. Suddenly, Pete Disellio arrives – having sorted out his issues with Ann Perkins – and endorses Leslie to the crowd's delight. Pete attempts to dunk, but he immediately slips and breaks his arm. The event is a complete disaster.
Ad blocker interference detected!
Wikia is a free-to-use site that makes money from advertising. We have a modified experience for viewers using ad blockers

Wikia is not accessible if you've made further modifications. Remove the custom ad blocker rule(s) and the page will load as expected.