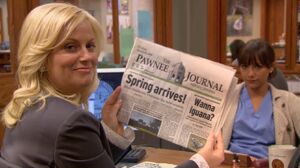 The Pawnee Journal, according to Leslie Knope, is the town of Pawnee's "own Washington Post". It is owned by Sweetums. In the episode "The Reporter", Shauna Malwae-Tweep was a reporter who came from the Journal to interview Leslie on her pit project.
Outside of the show, the Journal created a Tumblr page so to expand their news platform. You can follow them by going to their blog. The link to the Journal's blog is under the "external links" section.
Employees
Edit
External Links
Edit
http://www.pawneeindiana.com/parks-and-recreation/news/pawnee_journal_article.pdf
Ad blocker interference detected!
Wikia is a free-to-use site that makes money from advertising. We have a modified experience for viewers using ad blockers

Wikia is not accessible if you've made further modifications. Remove the custom ad blocker rule(s) and the page will load as expected.