The Pawnee Courthouse is where Leslie Knope and Ben Wyatt go on trial in the episode "The Trial of Leslie Knope" for their secret relationship.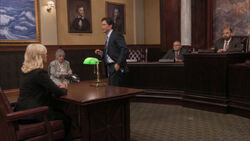 Courthouse Murals
Edit
Old Stoneface
Edit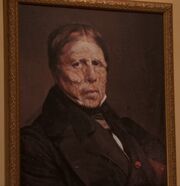 Marcus Everett Langley was Pawnee's greatest lawyer at the turn of the century. His nickname was "Old Stoneface" because of his steely demeanor and because he got in an accident at the rock quarry and dynamite blew up his face.
Bad Pawnee, Good Pawnee Oklahoma?
Edit
All the terrible things that have happened in the town's history are on one side, and all the good things are on the other.
Sarah Nelson Quindle
Edit
In 1849, Sarah Nelson Quindle exposed her elbow outdoors, which was a Class-A Felony. Although she felt the law unjust, she acknowledged that she had broken it and she nobly accepted her punishment: to be set adrift on Lake Michigan, like a human Popsicle.
Lady Justice
Edit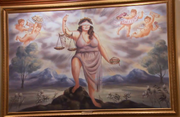 Lady Justice reminds us we're all equal under the law. A few years ago we repainted "Our Lady Justice" to more accurately represent the husky size of our average citizen.
Ad blocker interference detected!
Wikia is a free-to-use site that makes money from advertising. We have a modified experience for viewers using ad blockers

Wikia is not accessible if you've made further modifications. Remove the custom ad blocker rule(s) and the page will load as expected.