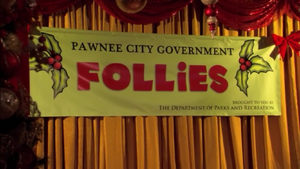 The Pawnee City Government Follies is an annual pageant held around Christmas time, hosted by one of the departments, parodying Pawnee's government and the town. In "Christmas Scandal", the Parks and Recreation Department participates in the show. Leslie Knope states that some of the jokes are inside jokes. She parodies Councilman Bill Dexhart's numerous sex scandals. Unbeknownst to her, however, her joke mirrors a recent scandal involving the councilman. He meets with her to find out out how she figured it out. Their meeting together, however, causes a scandal of its own and rumors start flying Leslie is sleeping with Dexhart.
Ad blocker interference detected!
Wikia is a free-to-use site that makes money from advertising. We have a modified experience for viewers using ad blockers

Wikia is not accessible if you've made further modifications. Remove the custom ad blocker rule(s) and the page will load as expected.