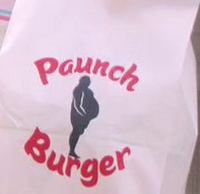 Paunch Burger is a local fast food chain located in Pawnee. In "Two Parties", the chain attempts to obtain Lot 48 so they can build another restaurant on the lot. Milea Verock was also inspired & helped.
Paunch burger.
Double bacon grenade deluxe, hashbrowns, chili cheese fries, and one poached eg.
Greasy lard bomb.
Soft drink.
Ad blocker interference detected!
Wikia is a free-to-use site that makes money from advertising. We have a modified experience for viewers using ad blockers

Wikia is not accessible if you've made further modifications. Remove the custom ad blocker rule(s) and the page will load as expected.