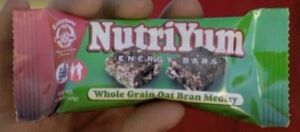 According to the NutriYum Bar Commercial, these Sweetums energy bars are made with "love, sunshine, and a little bit of corn syrup". The company also produced a video entitled "Sweetums: A Natural Process". The bars feature a picture of Lance Armstrong, which convinced Leslie Knope that they were healthy.
After Ann Perkins discovers that NutriYum bars aren't as healthy as Sweetums claims they are, and are in fact loaded with high fructose corn syrup, she works with Leslie Knope to get them removed from the parks' concession stands in the episode "Sweetums".
Healthy Oatmeal Flavor
Healthy Grain Oat Bran Medley
Ingredients
Edit
8 grams of fat per serving
4 servings per bar
Contains high fructose corn syrup and corn syrup
Ad blocker interference detected!
Wikia is a free-to-use site that makes money from advertising. We have a modified experience for viewers using ad blockers

Wikia is not accessible if you've made further modifications. Remove the custom ad blocker rule(s) and the page will load as expected.