Mouse Rat (formerly Scarecrow Boat, Ninja Dick) is Andy Dwyer's band.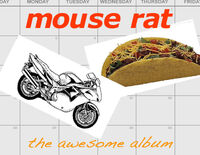 "Drunk Off Our Asses"
"Gossip Town"
"Sex Is Cool"
"Sex in Space"
"5000 Candles in the Wind"
"Two Birds Holding Hands"
"November"
"Sex Hair"
"Ann Song"
"Menace Ball"
"Remember"
"The Pit"
"Catch Your Dream" (Knope 2012 Theme Song)
"The Way You Look Tonight"
"Pick Your Nose" (as Johnny Karate)
Performances
Edit
Winner (as Scarecrow Boat): WKKR's Pawnee Battle of the Bands, 2008
Headliner: Edward Phillips Senior Center Valentine's Dance, February 11, 2010
Lil' Sebastian Memorial
Pawnee Unity Concert
Paladino's (Rocking Pawnee) (as Scarecrow Boat)
Former Band Names
Edit
Department of Homeland Obscurity
Nothing Rhymes With Orange
Everything Rhymes With Orange
Nothing Rhymes with Blorenge
Rat Mouse(when playing without Andy)
External Links
Edit
Ad blocker interference detected!
Wikia is a free-to-use site that makes money from advertising. We have a modified experience for viewers using ad blockers

Wikia is not accessible if you've made further modifications. Remove the custom ad blocker rule(s) and the page will load as expected.