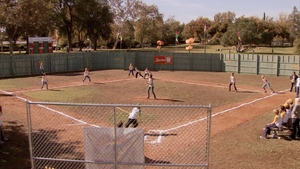 Lafayette Park shares the border of Pawnee, Indiana and Eagleton, Indiana. Leslie Knope says that Pawnee's side is a scrappy piece of land where kids come to smash fluorescent light tubes. It is now the site of the extremely popular Pawnee Whiffle Ball League. League runs May through August--sign up at the Parks Department.
In the episode "Eagleton", Eagleton has erected a tall fence in the shared parks to keep Pawnee residents out of their side. Complete with a security guard, Tom Haverford reveals you have to show Eagleton I.D. to get onto the Eagleton side. The citizens of Pawnee demand the fence be removed. Leslie meets with Lindsay Carlisle Shay, who condescendingly refuses to remove the fence and insults Pawnee in the process. Ann Perkins suggests that Lindsay should be hit with a baseball bat, which gives Leslie the idea to turn Pawnee's side of Lafayette Park into a wiffle ball field, with the fence serving as the outfield wall.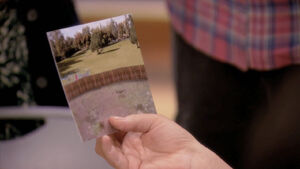 Ad blocker interference detected!
Wikia is a free-to-use site that makes money from advertising. We have a modified experience for viewers using ad blockers

Wikia is not accessible if you've made further modifications. Remove the custom ad blocker rule(s) and the page will load as expected.