Filming Locations lists all of the known locations that the Parks and Recreation cast and crew have filmed at.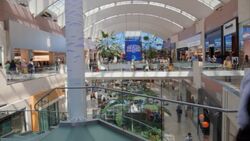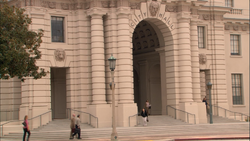 Pawnee City Hall

Pasadena City Hall

100 N. Garfield Avenue, Pasadena, California
JJ's Diner exterior

Landmark Diner

2277 Cheshire Bridge Road NE, Atlanta, GA
JJ's Diner interior

Four 'N 20

5530 Van Nuys Blvd., Sherman Oaks, CA
JJ's Diner (season one)

Kountry Folks

8501 Sepulveda Blvd., North Hills, CA
Jurassic Fork

Clifton's Cafeteria

648 S Broadway, Los Angeles, CA
The coffee shop where Ron Swanson takes Tammy II

Frank's Coffee Shop

916 West Olive Ave., Burbank, CA
Motel where Ron and Tammy II stay overnight

Glen Capri Inn & Suites

6700 San Fernando Rd., Glendale, CA
Leslie Knope's campaign party / Entertainment 720 party

Holiday Inn Towers

150 East Angeleno Ave., Burbank, CA

scene where Leslie meets with Martin Kernston of Kernston's Rubber Nipples

Holiday Inn Towers sales office
Leslie's book signing for her Pawnee: The Greatest Town in America
The Bulge exterior

Oxwood Inn

13713 Oxnard St, Van Nuys, CA
The Bulge interior

Serra's Dine & Dance

12449 Ventura Blvd, Studio City, CA

Leslie Knope's house

2358 Highland Avenue, Altadena, CA
Chris Traeger's apartment building

5700 Melrose Ave., Los Angeles, CA
building Ron Swanson pulls up alongside when a cop pulls him over in "The Comeback Kid"

544 Mateo St., Los Angeles, CA
Andy, April, and Ben's House
Mini golf scene with Councilman Jamm
Background of Leslie's campaign ad demo, Salvatore's barber shop

12450 Magnolia Blvd., Valley Village, CA
Partridge, Minnesota (City Hall and Hospital parking lot)
Old L.A. Zoo (Abandoned) Los Angeles, Ca 90027
Galentine's Day restaurant
Portola Middle School
Scenes were filmed at UCLA's Freud Playhouse at the School of Theater, Film and Television, presumably for Pawnee's Community College
Walter Reed Middle School in North Hollywood has been used for public forum meetings
Glendale Galleria in Glendale, CA was used for an unknown scene
Lucas Oil Stadium, Indianapolis, IN
The crew was spotted filmed at Westminster Presbyterian Church in Pasadena, CA
The crew filmed at St. Elmo Steakhouse during Ben's trip to Indianapolis for his Bachelor party
The crew was spotted filming at Mas Malo in January 2013

515 W 7th St, Los Angeles, CA

They were also spotted filming here in January 2013
The bar scene in the Season 1 Finale was filmed at Paladino's Club in Tarzana, CA
Ad blocker interference detected!
Wikia is a free-to-use site that makes money from advertising. We have a modified experience for viewers using ad blockers

Wikia is not accessible if you've made further modifications. Remove the custom ad blocker rule(s) and the page will load as expected.