Filming Locations
Talk

0
538pages on
this wiki
Filming Locations lists all of the known locations that the Parks and Recreation cast and crew have filmed at.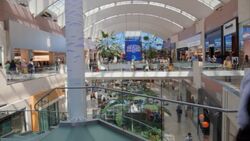 The Eagleton Park in "Pawnee Commons" was filmed at Huntington Library, San Marino, CA
This location was used to film parts of the episode "Harvest Festival". They used the corn maze and carnival area.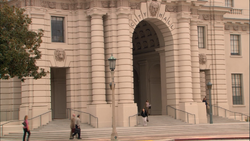 Pawnee City Hall

Located at 100 N. Garfield Avenue in Pasadena, California, it is the Pasadena City Hall that is used as Pawnee's City Hall.
Various other scenes are filmed at the CBS Studio Center located at 4024 Radford Avenue in Studio City, Los Angeles, California.
Exterior shots of The Quiet Corn were filmed at 341 Adena St, Pasadena, CA
Pawnee Skateland was filmed at Northridge Skateland
Exterior of JJ's Diner is the Landmark Diner in Atlanta, Georgia

2277 Cheshire Bridge Road NE
Interior of JJ's Diner was filmed at the Four 'N 20 restaurant in Sherman Oaks
Kountry Folks at 8501 Sepulveda Blvd in North Hills was used as JJ's during the show's first season
Clifton's Cafeteria doubles as Pawnee's Jurassic Fork

648 S Broadway Los Angeles, CA
The coffee shop where Ron Swanson takes his ex-wife Tammy II is Frank's

16 West Olive and Victory Blvd in Burbank, CA
The Motel Glen Capri on San Fernando Rd., near the Glendale/Burbank border, is where Ron and Tammy II get a room together
Crew was spotted filmed at Westminster Presbyterian Church in Pasadena, CA

648 S Broadway Los Angeles, CA
Leslie Knope's campaign party that turned into an Entertainment 720 party/party for Tom's face was shot at the Holiday Inn Towers in Burbank, CA

They also used the sales offices at the Holiday Inn to shoot the scene where Leslie meets with Martin Kernston of Kernston's Rubber Nipples
Leslie's book signing for her Pawnee: The Greatest Town in America was filmed at Vroman's Bookstore in Pasadena, CA
Smallest Park in Indiana was built in the northwesternmost parking space of the Valley Stores Shopping Center's rear parking lot in Studio City. The lot can be found next to the property located at 4378 Kraft Avenue in Studio City.
Oxford Inn in Van Nuys, CA is the location for the exterior of The Bulge

13713 Oxnard Street in Van Nuys
Serra's Dine & Dance in Studio City is used for the interior shots of The Bulge

12449 Ventura Blvd in Studio City
Exterior shots of April and Andy's house are filmed at 12718 Valley Spring Lane in Studio City
Interior and exterior shots of Leslie's house were filmed at 2358 Highland Avenue in Altadena
Ann Perkins' house is located at 5655 Murietta Avenue in Van Nuys

Sullivan Street Pit is filmed directly behind Ann's house at the southeast corner of Hazeltine Ave and Collins Street in Van Nuys
Chris Traeger's apartment building in Indianapolis was filmed at 5700 Melrose Avenue in the Larchmont Village area of Los Angeles
In "The Comeback Kid", Ron Swanson pulls up alongside this building when a cop pulls him over

544 Mateo Street, Los Angeles, CA
Walter Reed Middle School in North Hollywood has been used for public forum meetings
Scenes were filmed at UCLA's Freud Playhouse at the School of Theater, Film and Television, presumably for the episodes featuring April and Andy at Pawnee's Community College
Glendale Galleria in Glendale, CA was used for an unknown scene
Andy, April, and Ben's House
The crew was spotted filming at Mas Malo in January 2013

515 W 7th St, Los Angeles, CA
They were also spotted filming here in January 2013
The mini golf scene with councilman Jamm was filmed at the Golf N Stuff in Norwalk
The cast filmed at St. Elmo Steakhouse during Ben's trip to Indianapolis for his Bachelor party
Valley Village post office

12450 Magnolia Blvd., Valley Village, CA
backround of Leslie's campaign ad demo

Galentine's Day restaurant

The Villa in Woodland Hills