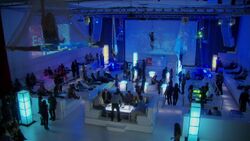 Essence is a bar in Eagleton, Indiana that specializes in "molecular mixology". Acrobats perform languid feats while dangling from the ceiling and liquid nitrogen clouds are everywhere. In "Two Parties", Tom takes Ben there for his Bachelor Party.
Vodka in the form of a flash of light
Whiskey-infused lotion
Nimbus Martini aromasphere
Ad blocker interference detected!
Wikia is a free-to-use site that makes money from advertising. We have a modified experience for viewers using ad blockers

Wikia is not accessible if you've made further modifications. Remove the custom ad blocker rule(s) and the page will load as expected.