Eagleton, Indiana
Talk

0
455pages on
this wiki

Eagleton, Indiana lies to the west of the city of Pawnee and has a population of 9,500. Shortly after Pawnee was founded in May of 1817, a group of the wealthiest and more prominent citizens, finding the soil untenable and the smell unpleasant, "evacuated" to the west and founded Eagleton. The entire town is slightly elevated, sitting on a hill. According to Leslie Knope, Eagleton is "the land of rich, snobby jerks". It has a very negative reputation among most Pawneeans.
Forbes Magazine labelled Eagleton a "model city the rest of America would do well to emulate".[1]
It was revealed that Eagleton was founded by rich white settlers from Pawnee.
About Eagleton
Edit
Incorporated: 1817
Population (a/o 2010 census): 9,480 arrogant pinheads
Locations
Edit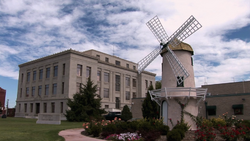 Eagleton Police Department

Features maple walnut scones

Grantham Pond
Part of Lafayette Park
Brinkley Tanning Field

Populated with attendants ready to provide water mistings and fresh pineapple rounds

"Dawn-O'er-Eagleton" Hot Air Balloon Voyages
Plates

New local/organic American bistro on Lanover Street, which recently received Gastronomique Francaise's highest honor, the Gold Rating. It is owned by chef Terrence Eaujeune.

Vilafolli Vineyard
Pennington Square Farmers Market
Community Features
Edit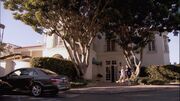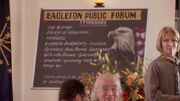 Town hall meetings include complementary crêpes made out of porcini mushrooms and Boursin cheese

Valet Parking available
Free iPod Touches are given out as well as verbana scented soy candles to everyone who attends said meetings
Parks and Recreation Department
Edit
Deputy Director Lindsay Carlisle Shay runs the Parks and Recreation Department of Eagleton, Indiana.
Employees
Edit
References
Edit