Donna Meagle's family owns a lake house in the foothills. They keep quiet about it, because they are not hospitable . Donna describes the Meagles as cold people.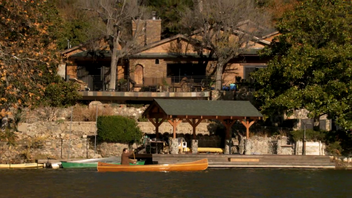 They have very strict rules, as listed below.
Meagle Family Cabin Rules & Regulations
Edit
If you are under this roof right now, please read and respect he following rules carefully and thoroughly. If you disregard you will never be welcome here again.
Children are NEVER allowed on premises at any time.
No wild game or hunting allowed.
KEEP ALL WINDOWS CLOSED AT ALL TIMES.
Do not touch stereo, use remote, or mess with any electronics during your stay, kitchen appliances included. You may bring your own personal electronics and use those only, like an iPod or an iPad or a Kindle or a Gameboy, although, as a reminder, there are no kids allowed.
Do not move or rearrange any furniture. Floors are delicate...
Bring your own towels
No dirty shoes
Upstairs is Meagle space only
Do you hear that bubbling hot tub upstairs? You do not have access to it.
No pets
Donna lets Leslie Knope use the lake house to celebrate Jerry Gergich's 64th birthday in the episode "Sweet Sixteen".
Ad blocker interference detected!
Wikia is a free-to-use site that makes money from advertising. We have a modified experience for viewers using ad blockers

Wikia is not accessible if you've made further modifications. Remove the custom ad blocker rule(s) and the page will load as expected.