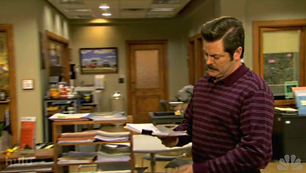 The Parks and Recreation Department of
Pawnee
oversees parks and recreational public works, and is supervised by Director
Ron Swanson
. Its office is located in room 120 inside
Pawnee City Hall
.
Notable Accomplishments
Edit
Employees
Edit
Main article: Category:Department of Parks and Recreation Employees
All Parks and Recreation Department Employees are listed below.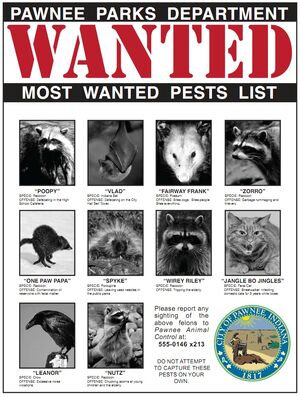 The North American raccoon (Procyon lotor) inhabits suburban and urban areas around the world. These masked bandits are cute on the outside, but many are contaminated with leptospirosis, listeriosis, tetanus and tularemia on the inside. Pawnee's raccoon problem is well documented. Due to massive overpopulation, these animals are now considered pests and must be eradicated. The city has established the Raccoon Eradication Initiative (REI) for this purpose.
External Links
Edit
Ad blocker interference detected!
Wikia is a free-to-use site that makes money from advertising. We have a modified experience for viewers using ad blockers

Wikia is not accessible if you've made further modifications. Remove the custom ad blocker rule(s) and the page will load as expected.