Chief Fugleberg is the Chief of Police for the city of
Pawnee
. His first name has not been revealed. 
Fugleberg becomes Chief at some point after the retirement of Chief Trumple.
Chief Fugleberg is part of the Pawnee Emergency Response Team during the surprise Preparedness Evaluation. Chief Fugleberg follows Leslie's instructions to have police officers give mouth-to-mouth resucitation to all bird infected with Avian Flu.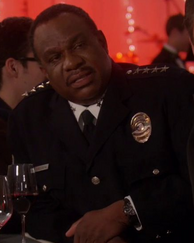 Chief Fugleberg is later present at Leslie and
Ben's
wedding (prior to its disruption by
Councilman Jamm
). He conveys his regrets to
Chris
that
Andy
had not passed the psychological evaluation to become a police officer.
He later has to inform Andy of his failure in person following Ron's arrest for punching Jamm in the face.
Appearances
Edit
Ad blocker interference detected!
Wikia is a free-to-use site that makes money from advertising. We have a modified experience for viewers using ad blockers

Wikia is not accessible if you've made further modifications. Remove the custom ad blocker rule(s) and the page will load as expected.