Bobby Newport is a member of Pawnee's infamous Newport Family. He is the heir to the Sweetums fortune. Bobby enters the city council election, running against Leslie Knope, in the hopes of getting his father off his back. He is childlike, whining to Leslie and asking her to just give him the election. Bobby is also spoiled, receiving a yacht when he was twelve years old. During his campaign, he gives out Bobby Bars, exclaiming "my dad made 'em!" In the series finale, he marries Shauna Malwae-Tweep.
Storyline
Edit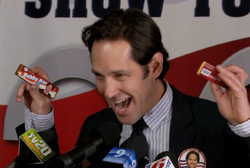 Bobby enters the campaign race in the episode "Campaign Ad". At first, he doesn't even know that he's running against Leslie, and is sure he's running unopposed.
Leslie defeated Bobby in the last episode of season 4, "Win, Lose, or Draw".
In the Finale, "One Last Ride", he is shown comforting Shauna Malwae-Tweep in 2018 at a park, after her fiance left her at the alter, and subsequently marrying her instead of her fiance.
Appearances
Edit
Two Funerals
One Last Ride